Ride the waves of Banderas Bay with our expert surf instruction!
Unleash the thrill of surfing with Surf Mexico's premier surf academy, located in the heart of Banderas Bay. Our state-of-the-art program, developed in partnership with the prestigious Academy of Surfing Instructors, Australia (ASI), offers 10 levels of instruction tailored to all skill levels, ensuring a fun and dynamic experience on the water. 
Whether you're a beginner or an advanced surfer, our ASI-certified instructors will help you take your skills to the next level and achieve your goal of becoming an independent surfer. Join us and let the adventure begin!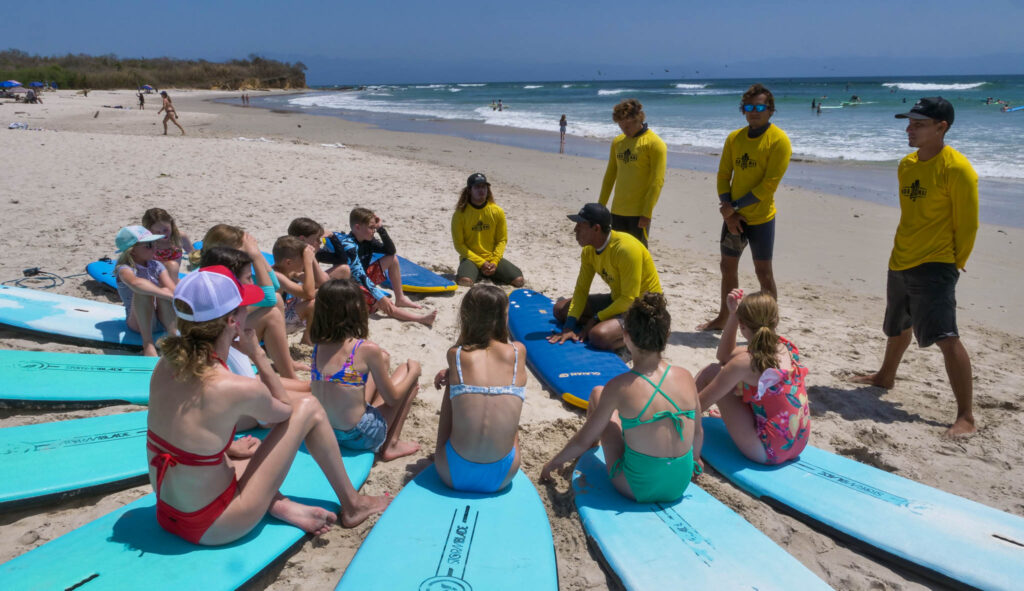 Experience the ultimate surf paradise at Riviera Nayarit. Immerse yourself in the breathtaking natural beauty and world-class surf spots that have made this destination famous. With warm, crystal-clear waters and endless wave possibilities, every level of surfer can find their perfect spot.
Let our expert team guide you on your journey to mastering the waves, whether you're taking your first steps or honing your skills. Unleash your inner surfer and make unforgettable memories at Riviera Nayarit.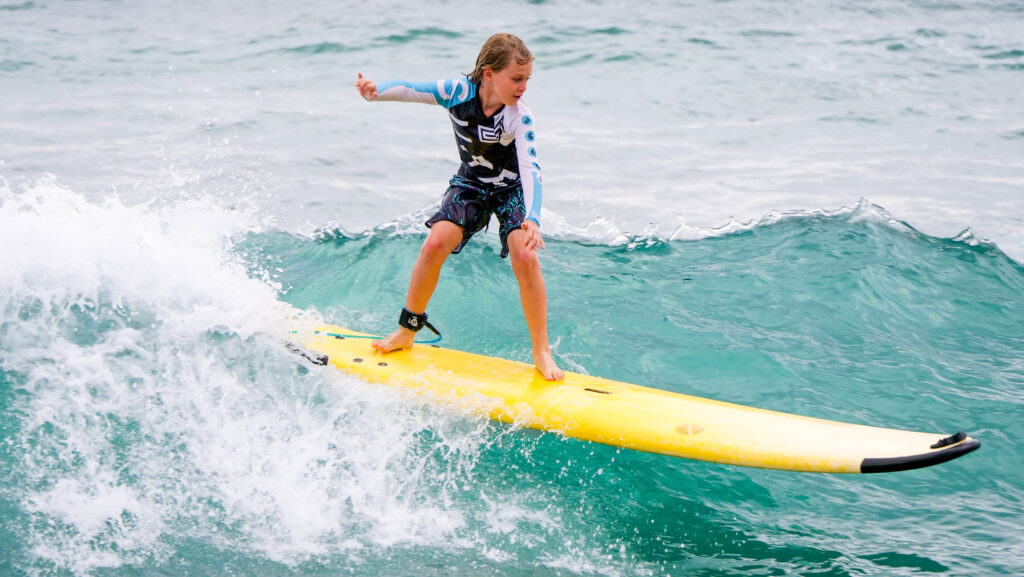 Our mission is to bring the thrill of surfing to everyone, regardless of age. Imagine the exhilaration of gliding effortlessly on the waves and feeling the power of the water beneath you. Don't let anything hold you back, join us and let us make your surfing dreams come true!
Our goal is to have you standing up and riding waves with confidence and grace from your very first lesson. We've perfected our instructional methods to cater to surfers of all levels, from complete beginners to seasoned pros, specifically tailored to the unique conditions of Banderas Bay surf breaks.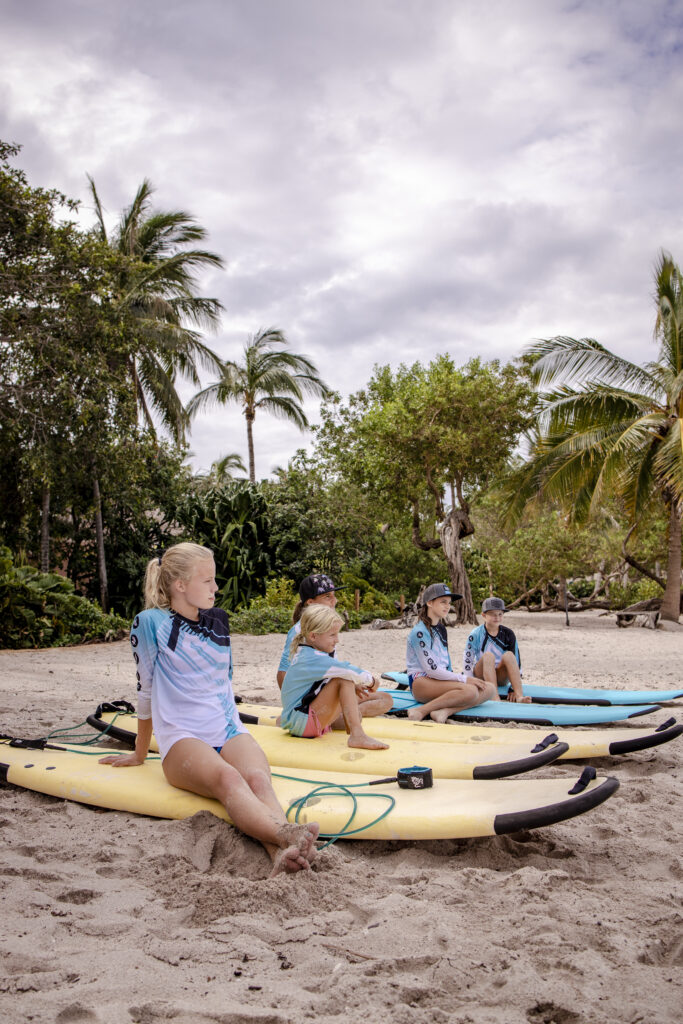 The Riviera Nayarit is a surfer's paradise, offering some of the best surf breaks in Mexico. Punta de Mita is a world-renowned surf spot, with powerful and long-lasting waves that can reach up to 6 feet. Overall, the region offers a variety of swells for all skill levels and a laid-back atmosphere.
Bahía de Banderas boasts a wide range of surf experiences, from smaller, gentler waves perfect for beginners to larger, more challenging waves perfect for advanced surfers. Whether you're a beginner looking to learn the basics or a seasoned surfer ready to take on bigger waves, our advanced coaching, immersive surfing experience, and analysis of your technique will allow you to perfect your surfing skill while also taking in beautiful surroundings.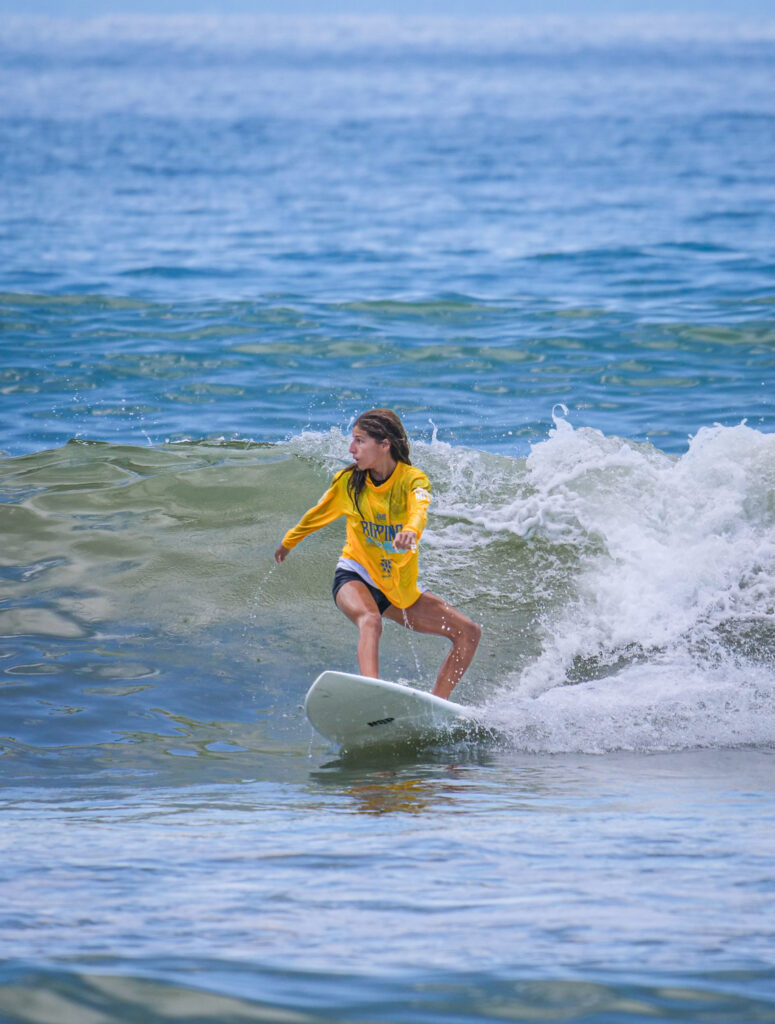 Surf Lessons for Beginners 
Surf awareness, safety, and self-rescue skills
Understand the surf environment
Types of waves and their dangers
Recognize rips and learn how to get out of them. 
Understand beach information and warning signs
Recognize surf hazards and learn how to avoid them. 
Methods to negotiate through the surf
Methods for coming in from the surf with
Use self-rescue techniques.
Caring for the beach environment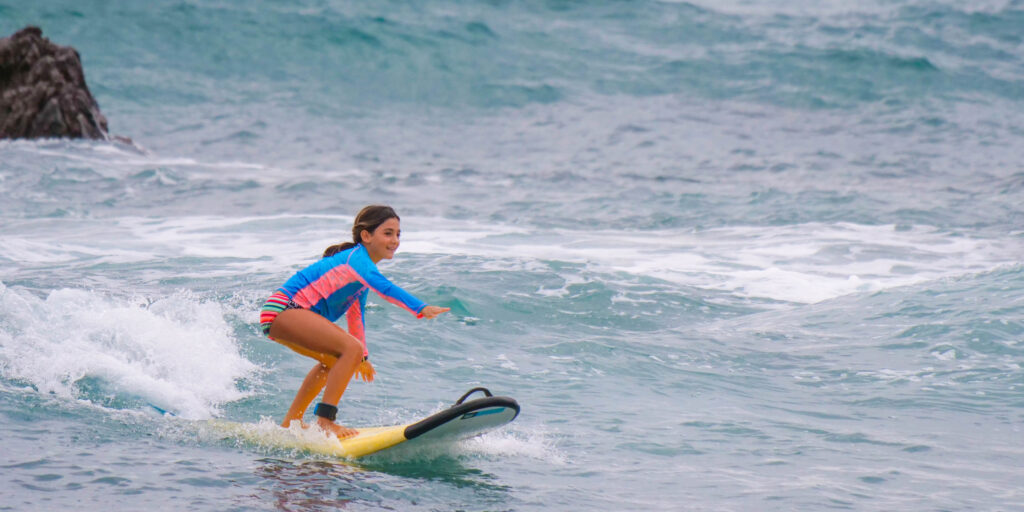 Intermediate Surf Lessons
Board control and intermediate-level surfing maneuvers (top and bottom turns, cut-backs, and re-entries on the forehand and backhand)
Assess surfing conditions: weather, swell, tides, wind direction, and speed.
Identify how to read waves by understanding different water conditions, and wave types.
Identify five different types of surf breaks.
Select a surfing location for the intermediate surfer.
Choose a suitable place for entering and exiting the water at different surf breaks.
Identify and use the different types of rips.
Negotiate broken and unbroken waves using the duck dive.
Identify the correct paddling-out protocol.
Choose the correct waves to ride.
Identify the correct take-off position.
Correctly ride the wave by understanding how body weight and speed affect surfing.
Identify how to turn your board.
Identify methods to get off the wave.
How to wipe out safely at the intermediate level.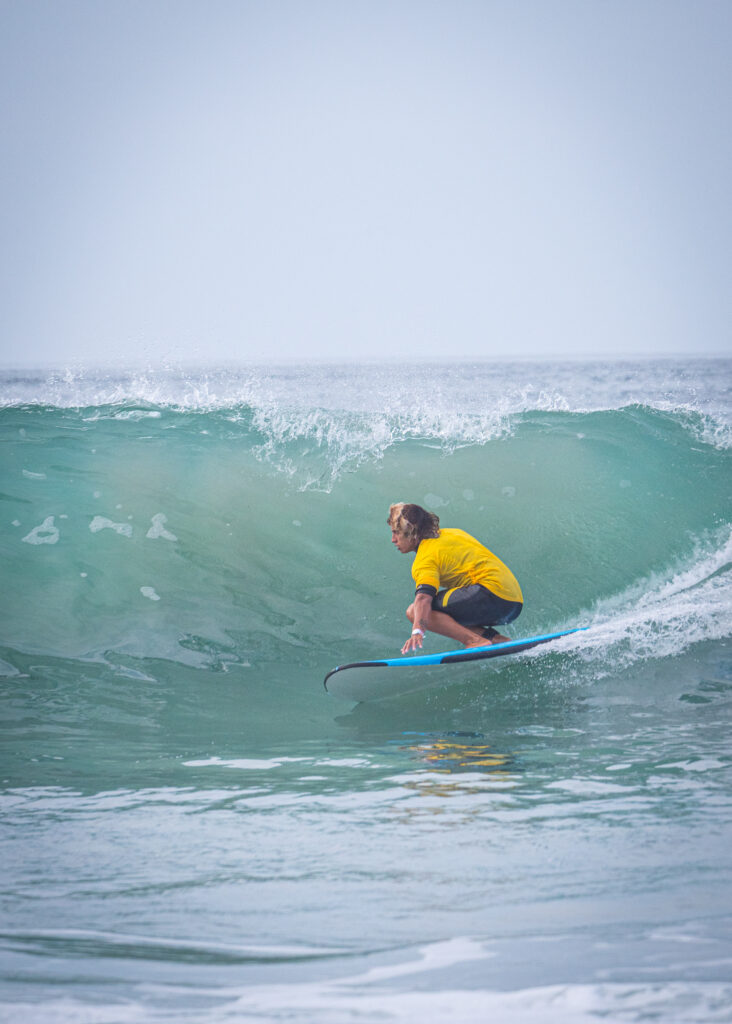 Advanced Surf Lessons
Control the surfboard and link advanced-level surfing maneuvers in the critical part of the wave.
Predict surf conditions at different surf breaks, taking weather, tides, and land formations into consideration.
Identify hazards while advanced-level surfing.
Select a surfing location for advanced surfers.
Negotiate advanced-level waves.
Identify different types of take-offs.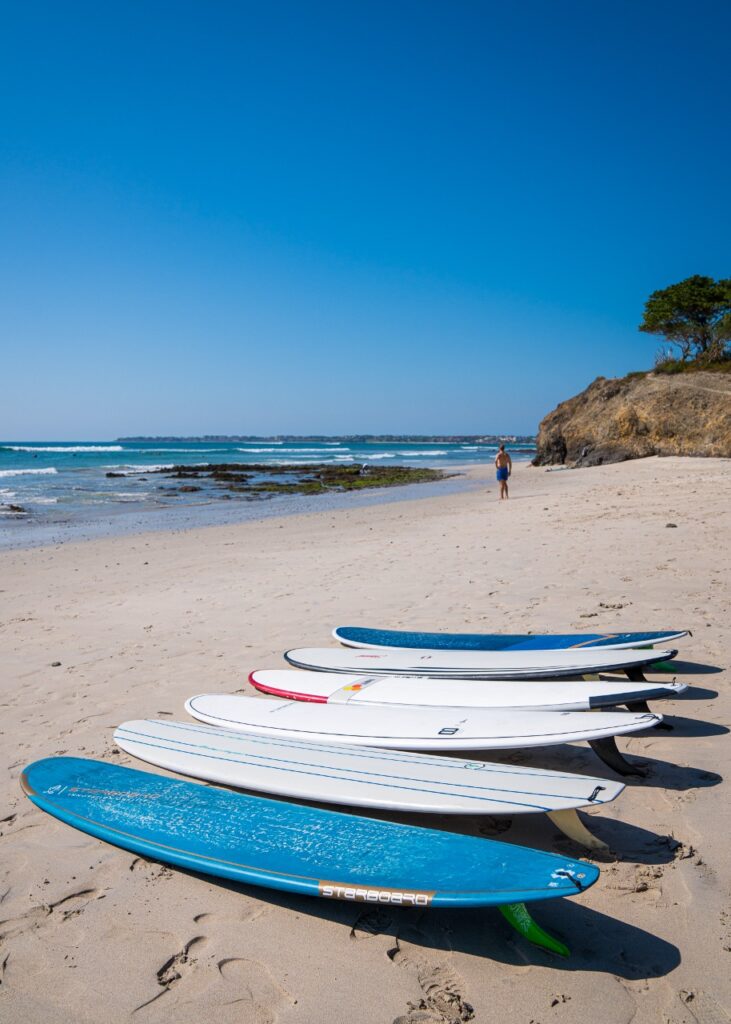 Surf Mexico Surf Academy provides all the necessary equipment,  like top-of-the-line surfboards and leashes, all you need to bring is your bathing suit, eco-friendly sunscreen, and a positive attitude.
We use high-quality soft boards for beginners and a variety of high-performance surfboards for more advanced surfers. Whether you're a beginner or an advanced surfer, our soft boards for beginners and high-performance surfboards will suit your needs.
We recommend that you are a confident swimmer, at least 5 years old, and be ready to have fun.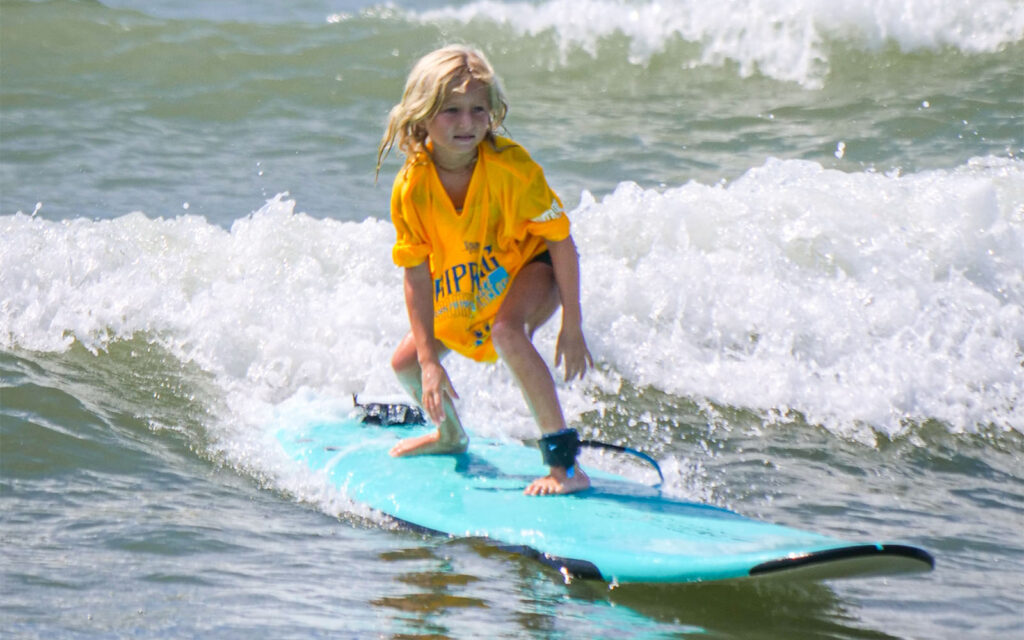 Surfing in Bahía de Banderas is a beautiful experience for the whole family! 
Book your surf lessons directly online at: www.surfmexico.com
 Ask about our photo and video packages today!
* ASI is the world's leading professional organization and international governing body for instructors, coaches, and schools in the outdoor recreation industry of surfing. Punta Mita Ocean Sports is a certification center in Mexico and offers courses twice a year to certify surfing instructors.