Sport Fishing in Bahia de Banderas
Bahia de Banderas is a perfect spot to begin your offshore sport fishing as it's closer to the best sites. Surf Mexico knows the bay and where to catch the big ones.
WORLD CLASS FISHING DESTINATION
Our family fishing excursions emphasize enjoyment, education, and respect for our waters. You'll be glad you took a break from your hectic vacation when you see the smiles on everyone's faces when they get their first catch. Both fishing and spending time with each other are important aspects of this adventure.
THE FISH ARE BITING ALL YEAR AROUND
Reserve this fantastic small-game fishing adventure onboard our covered, snug, and well-equipped Ohana vessel or our brand-new custom-made luxury boat, the Koa.
Sport FISHING IN BAHIA DE BANDERAS
To end this amazing experience, our captain will prepare the freshest ceviche you've ever had with your catch of the day!
THE KOA
Embark on a luxurious fishing adventure with Surf Mexico's private center console yacht, the KOA.
Led by an expert captain and crew, this custom-built beauty boasts a powerful engine and ample fuel capacity for a seamless trip. Indulge in unparalleled refinement as you step on board, where you'll find ample space for relaxation and comfort, complete with a variety of seating options, including a plush sofa that transforms into a cozy daybed for the little ones.
Get ready to reel in the catch of a lifetime on this artfully crafted masterpiece, the KOA.
Koa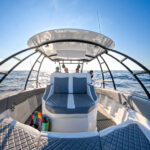 The KOA is led by an expert captain and crew who will cater to your every need and ensure a memorable fishing adventure.
Motor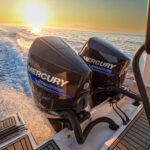 The KOA is equipped with a powerful 600-horsepower engine and great capacity gas tank, allowing for full-day trips and a wide range of travel, including Yelapa crossings and Corbetena expeditions.
Fishing Tackle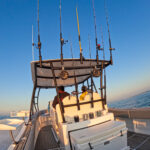 The KOA is equipped with top-of-the-line fishing tackle, including Avet reels, casting rods, and an expert selection of tackle hand-picked for what you're looking to reel in.
Deluxe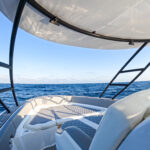 The KOA is 33 feet vessel hand-built with a unique design that exceeds expectations for comfort. It includes European-inspired bow seating and a trademark Deluxe lounger for sightseeing and whale watching.
Experience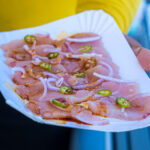 including a cappuccino and fruit selection, beverage and bar service selection, personal YETI thermos, and fresh sashimi and ceviche.